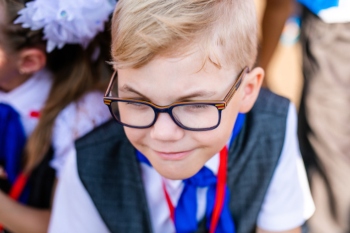 Thousands of children will receive two pairs of free glasses as part of a trial to improve literacy.
The 'Glasses in Classes' scheme will provide children who need glasses with one pair for home and one pair for school in a bid to improve writing and reading by tackling poor eyesight.
Under the scheme, school staff will receive the results of pupil's vision screenings so they can identify which children and their families will get support from a vision co-ordinator to attend follow-up eye examinations, get their prescription glasses and wear them regularly.
Figures show that only 30% of pupils who need glasses have not been to optician, while disadvantaged children are less likely to get or wear glasses.
Education secretary Nadhim Zahawi said: 'Too many children still struggle with the literacy skills they need to make the most of their education. Simple steps like providing free glasses to those that need them so they can clearly see words on a page, for example, can help close the literacy gap and foster a love of learning.'
The project was developed by the the Centre for Applied Education Research (CAER), a partnership created by Bradford Opportunity Area to remove health barriers to learning.