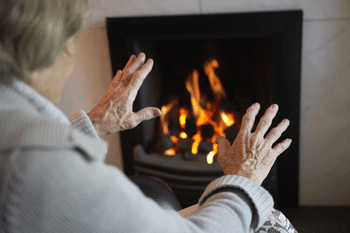 Almost four million children in England live in families that are struggling to pay their energy bills, shocking new report reveals.
New research, published by the National Children's Bureau to mark Fuel Poverty Awareness Day, found 4 in 10 of those living in cold homes are couples or single parents with dependent children.
The report, funded by UK energy supplier Economy Energy, also showed there are links between children living in cold homes and suffering a range of health problems, such as asthma and bronchitis.
It is estimated that the cost to the NHS for treating conditions caused or made worse by living in a cold home is £1.4bn per year.
It also revealed how fuel poverty impacts on the educational attainment and general wellbeing of children.
The report quotes one young parent dealing with fuel poverty: 'No-one can understand fuel poverty unless they have lived in it.
'Fuel poverty is when you wake up to find you have no gas, no money and two days 'til payday. You have to feed cold food to your children and wrap them up in coats, gloves and scarves indoors or trail them around the shops all day to keep them warm.'
Anna Feuchtwang, chief executive of the National Children's Bureau said:
'It is not just older people who suffer as a result of living in cold homes, many young parents too are stuck in a vicious cycle of low income, high energy tariffs on prepayment meters and housing that is damp and difficult to heat properly.
'As a result, many will have fallen into debt and seen their children suffer illness brought on as a result of fuel poverty. The parents we spoke to want to do their bit but need better advice on how to cut their energy use and make their homes warmer and healthier.
'Families shouldn't be left to solve these problems alone; urgent action is needed by the government, energy companies and housing providers to solve the fuel poverty crisis that millions of households find themselves in.'