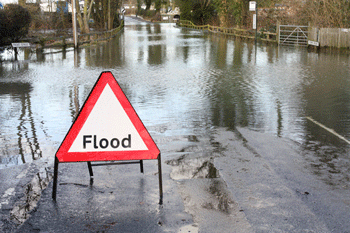 People whose homes have flooded will not have to pay council tax, David Cameron has confirmed.
Councils have been given access to a £4m fund to issue council tax rebates for those who have been forced to leave their home due to flooding.
Mr Cameron said: 'We will continue to do whatever it takes to support communities across the country who have been affected by flooding.
'We are taking action across the board and in addition to a range of measures that I have already announced to help hardworking people, I have today confirmed that we will make £4m available to fund council tax rebates for people whose homes have been flooded.
'The process of getting communities back on their feet will take time and people should not have to worry about paying council tax while they focus on the clear-up process.'
The Local Government Association (LGA) welcomed the news saying it would help councils provide financial support for flood vitims. Cllr Sharon Taylor, chair of the LGA's Finance Panel, said: 'Many people contending with flood damage to their homes have already been offered council tax rebates by their local authorities. Council budgets are stretched and demand for support is high, so it is good news that Government will be supporting local authorities' efforts to provide financial support to flood-hit homes.
'Local authorities are keen to work with government to ensure the application process is straightforward and that the benefit quickly gets to where it is most needed.'
The Government has previously pledged £30m of support for flood-hit councils.