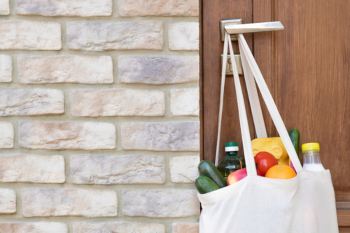 The first 2,000 food boxes for those that are clinically vulnerable have been delivered this weekend.
The NHS has advised 1.5 million people to self-isolate for three months to protect them from coronavirus.
The packages for those that do not have family or friends to help them contain essential food and household items such as pasta, fruit and tinned goods.
Communities secretary, Robert Jenrick, said: 'We will support these people at this difficult time, and the scale of an operation like that has not been seen since the Second World War.
'This is an unprecedented package of support and I want to thank the food suppliers, local councils and everyone who has come together to create this essential service in just a matter of days.
Chairman of the Local Government Association, cllr James Jamieson, said: 'Councils across the country are leading local efforts to support communities through the coronavirus crisis and are helping government provide essential food parcels to vulnerable and isolated people on an unprecedented scale.'