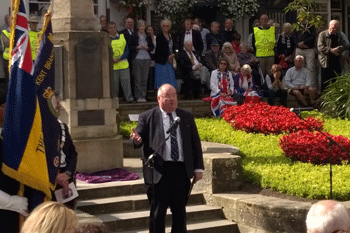 The first commemorative First World War Victoria Cross paving stones have been laid during ceremonies across the UK.
The nationwide campaign honours those who received the Victoria Cross during World War One. Over the course of four years, each of the 469 stones will be laid in the birthplaces or hometowns of the soldiers on the date their medals were awarded.
Some 35 stones for the Republic of Ireland are included in the honours, alongside 145 stones to be laid in the National Memorial Arboretum in memory of those awarded the VC who were born overseas.
Speaking at the first ceremony held on 23 August, communities secretary Eric Pickles said: 'One hundred years ago today these brave young soldiers were rightly awarded Britain's highest military honour for acts of exceptional courage in the cause of liberty.
'Today communities are gathering to lay the first paving stones in their honour as a fitting tribute to their bravery. We remember that these men were not born heroes.
'They came from towns and cities just like ours, but went on to carry out astonishing acts of valour in service of their country.'