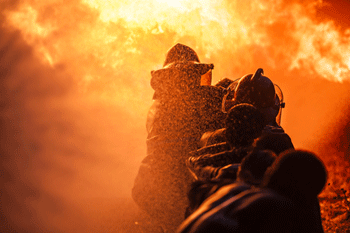 The number of fire deaths in England has fallen by 5% in the past year, according to official figures released by the Office for National Statistics.
The figures show a 40% drop in the number of people killed in a fire over the past decade, with a similar reduction in the number of people injured in a fire. The Department for Communities and Local Government said the safety standard for cigarettes, introduced in November 2011, was partly responsible for this reduction.
The figures also show that fire and rescue services attended 170,000 fires last year, the second lowest number of fire incidents ever recorded.
Fire minister, Brandon Lewis, said: 'People are safer than ever before. This reduction in the number of people hurt or killed is very welcome and I am particularly pleased that it continues a long-term downward trend. It is a tribute to those who have worked hard to raise awareness of fire safety and increase the use of smoke alarms.
'The award-winning Fire Kills campaign, run in partnership with the fire and rescue services, urges all householders to test their smoke alarms, and those of people who need help, on the first of every month - and, as an added boost, when they change their clocks twice a year.'