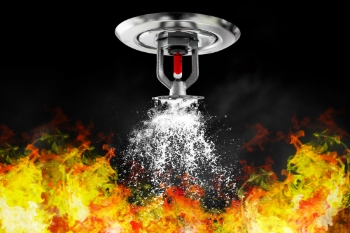 Fire chiefs across the country have renewed calls for mandatory sprinklers in schools as new research estimates that 390,000 teaching hours could be lost in the next year as a result of large fires.
An analysis of Home Office data by the insurer Zurich Municipal has found that school fires have destroyed the equivalent of 1,100 classrooms in the last five years.
It also found that fire crews have been called to tackle 2,300 school blazes in England, which completely gutted 47 primary and secondary schools, and seriously damaged 230 others.
Zurich Municipal – who looked at Home Office data from all 44 fire authorities in England – estimates that 390,000 teaching hours could be lost in the next year as a result of large fires alone, causing disruption for 28,000 children.
Tilden Watson, Zurich Municipal's head of education, said that young people had been 'disproportionally impacted by the pandemic' and warned that no more classroom time must be lost.
'These figures highlight the devastating impact of fires on the school estate. Unless the Government changes the law on sprinklers, accidental and malicious fires will continue to blight schools and children's futures,' he said.
School sprinklers are already mandatory in Wales and Scotland. Between April 2015 and April 2020, 1,467 primary schools and 834 secondary schools were hit by blazes. Just 2% of these schools were fitted with sprinklers. Zurich estimates the average repair bill for large fires alone is £2.9m, with some fires costing up to £20m.
The Government is investing £1bn into rebuilding 50 schools over the next five years with 70% of this investment targeted at schools in the Midlands and North as part of the 'levelling up' agenda.
However, Zurich's analysis shows that three out of the five fire authorities with the highest rates of school blazes – Greater Manchester, West Midlands and West Yorkshire – fall in these regions.
'It's absolutely right that the Government invests in these areas. But without protection from sprinklers, fires will continue to break out unchecked,' said Mr Watson.
'The Prime Minister must prove his ambitions to "level up" Britain are more than a slogan. This means protecting schools that are crucial to the North's economic success.'
Gavin Tomlinson, sprinkler lead, National Fire Chiefs Council (NFCC), commented: 'The case for sprinklers in schools is extremely compelling. The disruptive effect these fires have on whole communities is stark and the cost of the fire is felt well beyond rebuild costs. The impact can be devastating and, in the year where education has been so severely disrupted, school fires put huge additional pressure on the education service and parents.
'Schools are important community assets which need to be protected and we know that sprinklers are both highly reliable and effective. When sprinklers operate, they will control or extinguish a fire in 99% of cases.
'The NFCC will continue to call for the mandatory fitting of sprinkler systems in all new and refurbished schools in England.'
The Department for Education (DfE) has been contacted for a response.