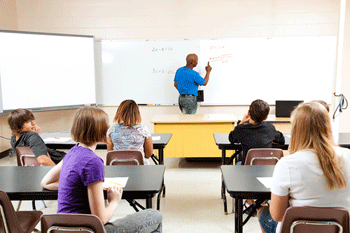 Schools in Northumberland could be forced to close or merge under new budget proposals, council warns.
Northumberland County Council is asking the public to consider three models designed to make the education offer in the area more sustainable.
Several schools in the area are forecasted to experience financial difficulties in the light of new national funding regulations.
Under the new funding formula schools are set to get an increase of 0.5% per pupil from the next school year and a 1% rise from 2019-20. They will also receive a £1.3bn increase in funding.
Schools would be set minimum funding levels including £3,500 per pupil at primary schools and a minimum of £4,800 per pupil in secondaries.
The Department for Education has also requested the council considers closing Haydon Bridge High after sponsorship was withdrawn.
'With the withdrawal of the Bright Tribe Trust and the Hadrian Trust consultation we feel the time is right to take a serious look at the education options within the Haydon Bridge and Hexham partnerships and explore all potential solutions,' said Cllr Wayne Daley, deputy leader and cabinet member for children's services at Northumberland CC.
'As well as those put forward as options in our consultation we very much welcome further ideas from schools and parents and the wider community.'
The first model under consultation would see the closure of Haydon Bridge School as it merges with Queen Elizabeth High School (QEHS).
The second model includes this merger, but also involves a more wide ranging change. All middle schools and up to seven first schools would close or merge with newly established primary schools.
The final model would see up to 10 primary schools merge and buildings closed.
'We know and understand that this consultation will generate a lot of debate and discussion,' said Cllr Daley.
'There are 32 schools within the partnership and within the options there is a possibility for some long established schools to close. We must be realistic and work in partnership for the benefit of all children.
'Unfortunately the current structure, with the high number of small and very small schools together with no sign of significant growth in pupil numbers mean that the current education system appears not to be financially or educationally viable in the long term.
'The newly introduced national funding formula does not resolve the funding challenges many schools face. An average-sized primary school nationally can receive nearly four times as much funding as a small school in Northumberland.
'Many small schools with low pupil numbers and low levels of funding will struggle to deliver a broad and balanced curriculum offer in the future.'