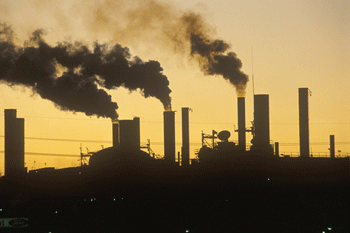 More than 90% of the UK's population live in areas where air pollution exceeds the recommended limit, new research has found.
A new air quality model, released by the World Health Organisation (WHO), shows areas where ultra-fine particles containing sulphate, nitrates and black carbon are higher than the recommended limit of 10 micrograms per cubic metre.
The model was developed in collaboration with a team of scientists led by the University of Bath.
Dr Gavin Shaddick, of the University of Bath's Department of Mathematical Sciences, said: 'Globally, air pollution presents a major risk to public health and a substantial number of lives could be saved if levels of air pollution were reduced.
'The model we have developed provides a wealth of information related to air quality around the world and highlights areas that exceed WHO air quality limits. This information is vital for health impact assessment, informing policy and the development of mitigation strategies.'
It is estimated that outdoor air pollution is responsible for three million deaths a year across the world.