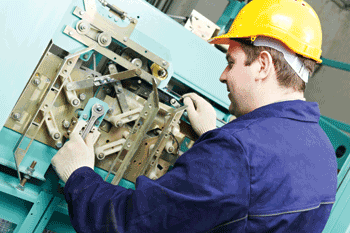 Our modern built environment is inconceivable without lifts, escalators, lifting platforms and stairlifts. At the "top end" of high-speed lifts, there's continual research into solutions to move more people faster using less building space. This innovation heavily influences the world of standards where the primary focus is safety. The development of British and European standards has been central to lowering accident rates – both to those using lifts, escalators and lifting platforms, and to those working on them. In this guide we look at everything from standards to maintenance.
Matt Ryan and Dave Cooper will address these issues in free seminars at the upcoming LIFTEX 2019 event.
Evacuation
If we are aspiring to make buildings accessible to all, the question arises: what about evacuation?
This question began to be addressed formally in British Standards 30 year's ago with BS 5588-8:1988 "Code of practice for means of escape for disabled people" which described an evacuation lift.
The safety of an evacuation lift depends on it being incorporated into a building design which protects the evacuation lift spaces, lobbies and refuges with adequate passive fire protection, and providing protection and resilience for electrical supplies including a secondary power supply.
With recent events initiating widespread reviews of current fire safety guidance, and an ageing population, evacuation methods and procedures for those with mobility impairment is one of the key issues and challenges that building designers and those managing/ operating buildings face. While new buildings are being fitted with evacuation lifts where required, there are large numbers of older buildings pre-dating modern standards expectations where there are seemingly no effective or practical evacuation lift provisions. The improvement of the evacuation lift provision for these existing buildings is a serious challenge.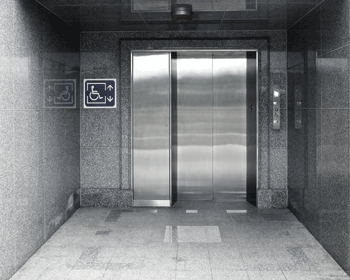 Fire safety design expert, Matt Ryan of the Fire Surgery, agrees: "Over the last 20 years lift technology and fire safety design approaches have advanced and evolved significantly, improving overall standards and consistency. But this progress has led to there being a large (and sometimes confusing) variation in the standard and functionality of lifts that are intended to be used in the event of fire provided in the UK's diverse existing building stock. For example, the level of protection and resilience afforded to an old-type "fireman's" lift installed in a typical 1960's residential tower block could be viewed as being minimal compared to a modern standard firefighter's lift installed in a new-build residential block to BS EN 81-72: 2015 and BS9999: 2008."
This in itself presents a challenge to building operators, as Ryan explains "This variation in standards can be challenging from a building fire strategy and fire risk assessment perspective, as well as for the fire service who will in a lot of cases be expected to use these lifts at the time of an emergency incident".
Focus on…Escalators
Dave Cooper, MD of lift and escalator engineering consultancy, LECS (UK), gives a whistle stop overview of maintenance and standards required of escalator owners.
There are thousands of accidents on escalators every year. Many result in criminal or, more often, civil claims against the owner of the escalator. There is, of course, an onus of duty of care on escalator owners to ensure that their equipment is appropriately specified, properly maintained and adequately examined. However, owners often fall foul of this because of insufficient documentary evidence clearly demonstrating that it has fulfilled its duty.
The primary criminal legislation that applies is the Health & Safety at Work Act. This legislation places an onus "as far as reasonably practicable" to comply with general duties under the Act. As there is no specific mention of escalators in this Act, duty holders may be required to explain and/or demonstrate how they have met their obligations.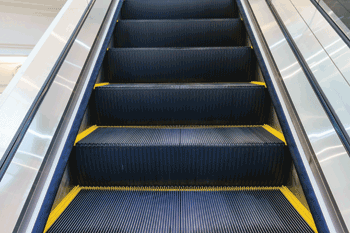 There are a number of good guidance documents that can assist in achieving this. The former Health & Safety Executive documents, PM34 (Safety in the use of escalators) and PM45 (Escalators: Periodic Through Examination) were replaced some time ago by the SAFed Escalator & Moving Walks Guidance Document. This gives a useful overview of escalator ownership requirements including periodic checks that can be undertaken by non-technical personnel. In this guidance document the requirements for periodic thorough examination of escalators is also well documented (this is very helpful given that escalators do not come under The Lifting Operations & Lifting Equipment Regulations 1998 (LOLER) regulation 9 requirements for periodic thorough examinations).
Periodic thorough examinations can be compared to a car's MOT. Similar to a car, owners have to maintain an escalator and it is expected to be maintained to the standard to which it was manufactured standard e.g. BS EN 115-1.
Nevertheless, an owner must be aware that since the original escalator standards (BS 5656 etc) were published there have been significant improvements in standards in a bid to raise safety levels, with devices such as under step lighting, anti-access guards and missing or dropped step detectors being introduced.
The basic requirement for procuring an escalator also starts with an adequate risk assessment being undertaken for the environment in which it is to be installed (BS 5656 Part 2). It is amazing how many designers fail to undertake this despite requirements under the Construction Design & Management Regulations for a designer's risk assessment. For owners of existing escalators there is a standard (BS EN 115-2) entitled "improvement of safety of existing escalators". This will assist in identifying risks and give the ability to mitigate them.
Owners should also be aware of BS 7801 - a standard for the safe working on escalators. This provides guidance on safety procedures to help avoid accidents when operatives are working on escalators as well as when the general public that may come into contact with these operatives.
In my 27 years' experience of giving expert witness evidence in cases involving escalators the major failing of owners is the lack of documentation required to prove that regular maintenance and examination is taking place. That in itself is an easy problem to solve.
How to negotiate a maintenance agreement
It goes without saying that a good maintenance agreement is essential for the longevity and upkeep of your building's lifts. But what does a 'good' agreement look like and can you expect to make savings if you negotiate well from the outset?
Sources of guidance
For any building manager there are obvious challenges in understanding the world of lifts and few impartial sources of guidance out there. Two useful sources are LEIA's Lift Owner News items and LEIA's Code of practice for maintenance.
The latter was created to form a mutual agreement between FMs and maintenance providers, with the aim of forming a valuable basis for the overall maintenance agreement. It sets out the separate requirements for the maintenance contractor and the building manager.
Maintenance fundamentals
A good maintenance agreement should reflect the needs of the lift manager and the type and usage of the lifts; so, it should have flexibility in the type of maintenance required and the periodicity. A good programme of maintenance will protect the value of the lift assets and maximise their lifespan – reducing future health and safety problems.
In the LEIA Code of practice, there are three generic types of maintenance:
1. Basic
2. Comprehensive
3. Premium
These work alongside other elements which need to be included as part of the overall agreement, including the number of maintenance visits required. These will be dependent on the needs of the FM and the type of equipment onsite.
Timescales
A good agreement should align the interests of both the FM and the maintenance provider. For example, a comprehensive maintenance agreement should be long enough to allow the contractor and FM to both benefit from early work to improve the reliability of the lift. Typically, this should be at least three to five years. Conversely, short agreement periods can result in reactive maintenance which is not ideal for the longevity of the lift.
What it should cover
The essential elements of a traditional maintenance agreement are:
• Planned maintenance visits
• Attendance at call-outs and breakdowns
• Parts included and any exclusions
• Handling of alarm calls.
Each of these should be agreed with the maintenance provider along with any other requirements and in order to do this, the lift may well need to be surveyed in the first instance.
LIFTEX 2019 brings together the best innovations and latest developments from the lift & escalator industry. Find hundreds of products & services from an international cast of over 100 exhibitors. 15 – 16 May 2019, ExCeL, London. Free registration at: www.liftex2019.com