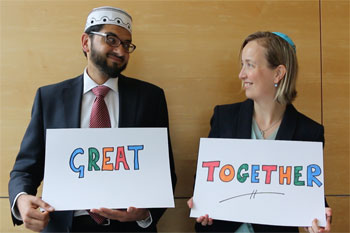 Fifty years ago today, Wolverhampton MP Enoch Powell gave a speech that transformed the immigration debate. 'It's going to go up like a rocket, but whereas all rockets fall to ground, this one is going to stay up,' he told the editor of the local Express and Star newspaper, two days before what became known as his 'Rivers of Blood' speech in Birmingham on April 20th 1968.
Fifty years on, immigration and integration are still big and divisive issues. But Britain has changed. Powell was too pessimistic about Britain: he felt that integration could never work, failing to foresee the powerful draw of British identity that motivated millions of Commonwealth migrants and their British-born children to put down roots and make a massive contribution to Britain.
New research by thinktank British Future, using research groups in the West Midlands and nationwide Survation polling, tells a story of progress on race relations and integration since 1968 - and of much work still to do. We are more integrated and less prejudiced today than 50 years ago. The violent civic strife that Powell predicted has not come to pass. Years of gradually-increasing contact - in schools, workplaces and in our families and relationships – have brought people together.
Yet there are still many challenges in getting integration right today. Dame Louise Casey's integration review highlighted those communities leading 'parallel lives' to those of their neighbours; and the prime minister's Race Audit exposed the 'burning injustices' of inequality that mean some Britons don't get the same chances as their fellow citizens. It is striking that on an issue of such public importance, it is only in recent months that the beginnings of a coherent, national strategy on integration is starting to take shape.
Communities secretary Sajid Javid's integration strategy is a welcome step in the right direction, presented in a Green Paper for consultation. It presents an important opportunity to get integration right. But while the Green Paper is a national strategy, it will be delivered locally – and integration challenges differ across the UK.
The National Conversation on Immigration, a joint project between British Future and HOPE not hate in conjunction with Parliament's Home Affairs Committee, has just concluded the last of 60 meetings with citizens and stakeholders in every nation and region of the UK. Together with an open online survey and attitudes polling this summer, it will represent the biggest-ever effort to engage the public on our future immigration and integration policy. Its final report will be published this Autumn.
There are common themes across the UK: the need to expand English for Speakers of Other Languages (ESOL) provision so people can communicate in a shared language; and how bringing people from different backgrounds together, in schools and in adult settings too, can play an important role in breaking down barriers. Councils feel that integration of new Syrian refugees has largely been successful as resettlement has been properly resourced, with learnings for a better approach to integrating asylum-seekers and other refugees. There are local issues too: in some areas, better regulation of private rented housing would make a real difference; in others, tackling low-level anti-social behaviour is something the public really wants to see.
Councils are well placed to understand local integration challenges, but at the moment we have a postcode lottery of practice. British Future has recently spent time in Bradford, where the local authority has a strong commitment to integration and a clear vision of what they want a more integrated city to look like. In Southampton, real efforts are being made to integrate new arrivals from Poland. And we have been impressed by the commitment of the West Midlands Mayor Andy Street to tackle hate crime.
Sharing best practice, coordinating efforts and resources and learning from the successes and challenges of others, including in the five pilot areas identified in the integration Green Paper – Blackburn with Darwen, Bradford, Peterborough, Walsall and Waltham Forest – will be key to making integration work across the UK.
Among the public people can agree, across political, generational and ethnic divides, on what we need to do now to make integration work. Three-quarters of all people (74%) agree that; 'To build a shared pride in Britain today, we should respect our diversity but focus more on what brings us all together. Integration works when everyone speaks English and our schools are mixed, not segregated, so people do meet and get along.' Just 6% disagree.
Fifty years on from 'Rivers of blood,' Britain has shown that Enoch was wrong. We are a much better integrated society than he could ever have imagined. Big challenges remain and our immigration debate can feel more divided and polarised than any of us would want. But on integration there is consensus that we can and should make it work. The task now is to seize this opportunity to make that happen.
Steve Ballinger is director of communications for British Future. Its one-day conference 'Immigration and integration – getting it right locally' takes place in London on Thursday 17 May.