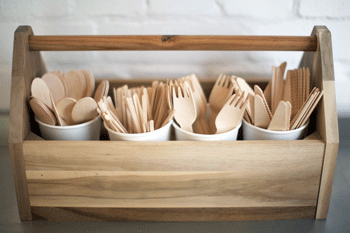 Plastic. It's one of the hottest topics at the moment and much of the discussion in the mainstream media began with the BBC's Blue Planet 2. We are constantly seeing headlines showing the impact that plastic is having across the globe. An estimated 8.3 billion tonnes of plastic have been produced since the 1950s and by 2050, this is expected to rise to 34 billion tonnes.
So – this now brings the challenge of what to do about it.
The Government has stated its commitment to taking appropriate action for addressing single-use plastic waste through various initiatives. In January 2018, the 25-year Environment Plan was released, which aims to eliminate avoidable plastics by the year 2042.
"We are determined to be the first generation to leave the environment in a better state than when we found it. By tackling the scourge of plastic waste, we can secure a cleaner, greener future for our country." - Philip Hammond
As part of this commitment, the Government has pledged to remove from its offices any Consumer Single Use Plastic (CSUP) purchased under a Government contract by 1 January 2020. To achieve this deadline, staff and the supply chain must work closely together. This effort has 'snowballed' into the private and wider public sector and is becoming a key consideration in our construction supply chain too.
In advance of this ban on CSUP, Crown Commercial Service (CCS) has developed an elimination scheme to be implemented through the facilities management (FM) suppliers on its FM framework. Working hard with suppliers, we have collaboratively established steps that can be taken to remove CSUP from new and existing contracts with departments at neutral cost, either directly or as a result of savings elsewhere in the supply chain or waste management process. The intention is to ensure that suppliers will do the same on all wider public sector contracts.
What our suppliers are doing
A number of FM suppliers have already developed plans, identifying key items to be replaced in a phased approach. These items fall into three broad categories.
Cleaning – e.g. wipes, brushes, scourers, soap, consumables, dishwasher tablets, bags.
Catering – e.g. condiment containers, sachets, tea bags, shrink-wrap, milk bottles, bags.
Tableware and Takeaway – e.g. cups, cutlery, stirrers, straws, takeaway boxes.
This includes specific deliverables, such as:
? diluting bulk concentrates of cleaning substances and decanting into reusable pump-spray bottles
? replacing liquid soap in dispensers with 'foamer' soaps to go up to 10 times further
? replacing disposable wipes with reusable/launderable cloths
? using recyclable glass milk bottles in smaller catering settings, or large milk bladders in larger ones, in place of plastic milk bottles or cardboard cartons
? using alternatives to plastic tea bags
? replacing canteen tableware/takeaway items with suitable alternatives, including metal, bioplastics, wood, cardboard etc.
? introducing a 'latte levy' to incentivise the use of reusable cups and reduce the use of cups with a plastic lining.
Some suppliers are establishing a corporate 'Plastics Charter' with high level governance and strategy, supported by internal communications on plastics awareness and e-learning for managers and leaders.
Working with suppliers to develop end-to-end solutions also result in less packaging and better recycling, with compostable plastics considered a better alternative.
How we can help you
Our mission at CCS is to help public sector bodies navigate the facilities procurement landscape by supporting them to make cost-effective, compliant procurement decisions that benefit their local communities.
We understand what's important to you, which is why we want to ensure that the agreements we have in place, and the suppliers on our frameworks, can offer you the best solutions for all of your needs, including important issues such as the elimination of single use plastics in the workplace.
By using our frameworks, which provide a standardised approach to procuring facilities related services, you can ensure you're buying what you need and getting the quality service you require, all at the right price.