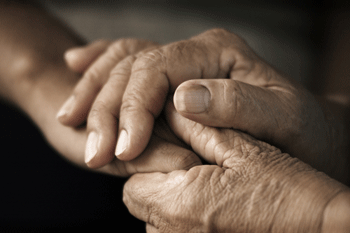 A new study has revealed how some of the oldest in society save the health and care system £23bn a year by providing free care to loved ones.
An analysis from the elderly persons charity Age UK has found that those who are 80 years old and over provide 23 million hours of unpaid care a week which adds up to 1.2 billion hours of care a year.
Almost one in three (30%) of older people aged 80 and over are carers and since 2010 the number of carers in this age group has rocketed by nearly a quarter (23%) to 970,000.
This unpaid care comes at a cost to carers own health and wellbeing, according to Age UK.
New analysis shows that seven out of 10 (71%) have long standing health problems of their own with nearly one in two (46%) having difficulty with moving about at home, walking or lifting carrying or moving objects.
Furthermore, 24% of carers in this age group are caring for more than 35 hours a week while a further 13% are caring for more than 20 hours a week.
'Nearly a million over 80 year olds are gifting the Government a whopping £23bn a year and it's high time these fantastic older people got something back in return,' said Age UK director Caroline Abrahams.
'Almost all of them willingly provide care for the person they love, typically a sick or disabled husband or wife, son or daughter, but by repeatedly failing to sort out our social care system the state is exploiting their goodwill and often leaving them to manage incredibly difficult situations alone.
'The burden placed on these older carers' shoulders is not only physical and emotional but financial too, because after years of Government underfunding so many older people who need care are having to pay for it themselves, wiping out the savings they've worked had for all their lives and sometimes resulting in the family home having to be sold.
'Blessed as it is with such a substantial Parliamentary majority, our new Government is better placed than any in the last twenty years to refinance and reform social care.
'The Prime Minister has promised to fix care and now he needs to follow through, with no more excuses or delays – surely it's the least our brilliant older carers deserve.'
'Our care system could not survive without the contribution of unpaid carers, including those aged 80 and over, who provide vital support for thousands of people every day. Councils fully recognise their crucial role and supported or assessed more than 345,000 unpaid carers in 2018/19,' said Cllr Ian Hudspeth, chairman of the Local Government Association's Community Wellbeing Board.
'Unpaid caring can be extremely rewarding but we know it can also be a real strain – emotionally, physically and financially, which is why councils are committed to doing all they can to support them.
'Councils in England receive 1.9 million new requests for adult social care a year – the equivalent of more than 5,000 a day - and pressures just to maintain existing standards of care and support continue to rise.'
'The Queen's Speech today is an opportunity for the Government to announce its proposals for the future of adult social care and work cross-party with local government to finally find a long-term, sustainable funding solution,' he continued.
'We also need an honest debate about what the future of care and support should look like, to reassure all those who use and work in this vital service.'