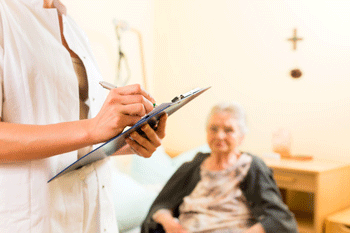 Older people are paying the price for six years of local authority budget cuts, with an increasing number having to fund their own care, health experts have warned.
The report by the King's Fund and the Nuffield Trust paints a bleak picture about the current state of Britain's social care system, and it warns more people are having to pay for their own care as a result of cuts to local authority services.
It adds the combination of budget cuts, staff shortages and rising demand for services are leaving elderly people in many cases without any support at all.
The report also warns more residential and home care providers are likely to close or go out of business, because of a combination of the National Living Wage and local authorities cutting their fees.
'The failure of successive governments to reform social care has resulted in a failing system that leaves older people, their families and carers to pick up the pieces,' said the King's Fund's assistant director of policy, Richard Humphries.
The report also highlights the growing funding gap, which it claims will reach £2.8bn by 2019/2020 and calls on the Government to be honest with the public about what they can expect from council services in the future.
Responding to the report, the chairman of the Local Government Association's community wellbeing board, Cllr Izzi Seccombe, said social care services have reached a 'crisis point'.
'The growing demand of an ageing population, as well as the increasing costs following the introduction of the National Living Wage, are squeezing care home and domiciliary care providers to the point of collapse,' said Cllr Seccombe.
'As a starting point, government should bring forward the £700m Better Care Fund money earmarked for the end of the decade to 2016/17 to protect vital social care services essential to easing the pressure on care providers and on the NHS.'
The former president of the Association of Directors of Adult Social Services (ADASS), Ray James, added: 'Our own research published in July highlighted that the precept, introduced in the Autumn Statement 2015 to give councils the option to raise council tax by 2 per cent for adult social care, would generate less than two thirds of the more than £600m needed to cover the National Living Wage this year.
'We're now at a tipping point where social care is in jeopardy, and unless the Government addresses the chronic underfunding of the sector, there will be worrying consequences for the NHS and, most importantly, older and disabled people, their families and carers,' he added.