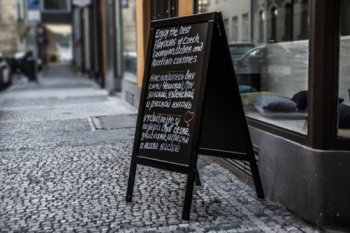 Edinburgh has voted 'unanimously' to ban advertising boards in order to improve pedestrian safety.
The city council's transport and environment committee said a ban on all temporary on-street advertising structures would improve accessibility for pedestrians with disabilities.
They also argued it would clarify the laws around advertising boards - also known as A-boards - which are already banned in a number of the city's areas.
The decision was taken after a public consultation with stakeholders, including Living Streets, Royal National Institute of Blind People (RNIB), the Edinburgh Access Panel, and various traders' associations.
'This ban, which has received broad cross-party support, is the right move toward creating accessible, good quality public spaces in Edinburgh,' said transport and environment convener Cllr Lesley Macinnes.
'Reducing street clutter is essential to opening up our streets for all members of society, providing safe, welcoming walkways and removing obstructions, and the ban of temporary on-street advertising structures will make a real difference.
'We do, of course, recognise the impact this is likely to have on small businesses, so we will be working closely with all those concerned to provide information and advice, and to investigate alternative advertising solutions where possible.'
Robin Wickes, vice chairman of the Edinburgh Access Panel, said: 'Pavement clutter is a significant obstacle for disabled folk in Edinburgh. For wheelchair users and vision impaired people in particular navigating our streets is a real challenge, especially since many of our pavements are narrow and busy with visitors.
'Banning A-boards will remove a major barrier and help disabled people enjoy equality of access to Edinburgh's streets and pavements.'