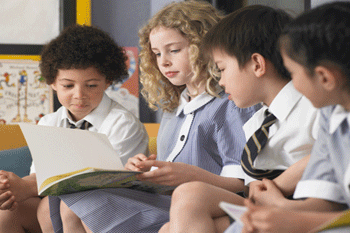 Children who have had high-quality early childhood education do better later in life, a new international study has confirmed.
The Organisation for Economic Co-operation and Development found that they achieve much better scores in international Pisa tests at the age of 15.
Students who had attended early childhood education for a year or more scored an average of 25 points higher in the Pisa science assessment compared with those who had not – 30 Pisa points is the equivalent of a school year.
The OECD says disadvantaged children benefit the most from early years education and targeting them would generate the highest returns.
Spending on ECEC accounts for an average of 0.8% of GDP across OECD countries, with 80% or more coming from public sources.
About a third of children aged under three are enrolled in formal childcare on average across OECD countries.
Rates vary widely, ranging from less than 10% of children in the Czech Republic, Mexico and the Slovak Republic to more than 50% in all Nordic countries, except Finland and Sweden, and in Belgium, France, Luxembourg and the Netherlands.
Launching the report in Mexico, OECD chief of staff Gabriela Ramos said: 'Giving all children access to high-quality early education and care will lay the foundations for future skill development, boost social mobility and support inclusive growth.'