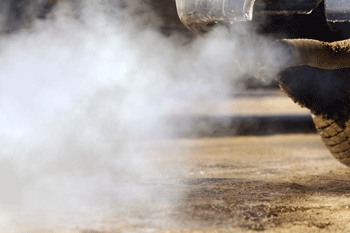 More than one in ten drivers would rather leave their car at home rather than risk losing their parking spot outside their home, a new survey has revealed.
The poll shows that 12% of motorists put off making car trips over concerns they may lose their residential parking spot, while 19% 'fret' about finding a spot when they return home.
The AA, who commissioned the research, called on councils to review their yellow lines in residential areas.
Edmund King the AA's president, said: 'Councils have tried to ease the squeeze by making roads one-way to allow parking on both sides. Some have re-engineered roads to create more spaces, while others have used variable-cost parking permits to try to moderate demand.
'But others have just left residents to get on with it, creating stressful residential rat-traps and blaming car ownership - instead of looking at the causes of more cars parked in a road and what might be done to make their electorate's lives easier.'
In response to the research, council leaders said there is often not enough road or parking space to accommodate demand.
Cllr Peter Box, transport spokesman for the Local Government Association, said: 'Councils are keen to help people make journeys without cars, where that is possible, and to better manage traffic, so that those who have no alternative but to drive can get there quicker and park when they arrive.
'Measures which would help meet this objective include fully funding the concessionary fares scheme, handing control over the Bus Service Operators' Grant – a fuel duty rebate paid directly to bus operators by the Government – to councils and giving them the power to enforce moving traffic violations, including illegal U-turns and box junction offences, to tackle congestion hotspots.'