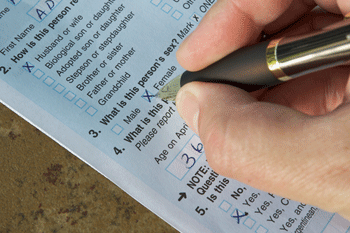 The Government has been urged to avoid scrapping the 2021 census, with MPs claiming the data would be of 'fundamental importance' to society.
A report from the Public Administration Select Committee also concluded the Office for National Statistics (ONS) could do much more to make the best use of the information gathered.
While the Government has previously indicated the ten-yearly census could be scrapped, committee chair Bernard Jenkin MP, said it was 'too soon to decide' whether this would be an appropriate move.
The committee said population estimates were of 'fundamental importance to the statistical system, policy makers and society more widely', but that the census should be changed from its current form.
'The increasing costs and deficiencies of a traditional census must be recognised,' the committee's report says.
Most respondents to the ONS consultation and the committee's own research agreed that the decennial census should be retained.
The committee recommended the Government should now 'embark upon a public information campaign to communicate the benefits of increased data sharing for statistical purposes, and the safeguards which will be in place to protect people's personal information and privacy'.
Chair of the Committee, Bernard Jenkin MP, said: 'We think there should still be a census in 2021. The Government should make far greater use of the data it already holds in order to improve population estimates.
'We urge the Government to address public concerns about data sharing and to learn the lessons from the flawed rollout of the "care.data" programme, so that the best use can be made of the information already collected and held by the Government. The Government's objective of "better, quicker information, more frequently and cheaper" depends upon it.'