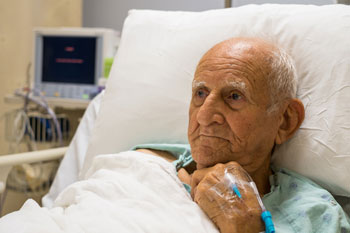 A leading doctor has called for a national overhaul of social care systems to prevent the NHS from grinding to a halt.
The president of the Society for Acute Medicine, Dr Mark Holland, said it was 'essential' discharge and social care processes are overhauled to relieve the pressure on hospitals.
Dr Holland said the current situation with delayed discharges – often referred to as 'bed blocking' — was 'disastrous'.
He also highlighted figures published by NHS England last week, which showed there were 184,200 total days lost to delayed charges in July, compared to 147,400 in the same month last year.
'At the core of the issues facing the NHS is the rapidly increasing number of delayed discharges. The figures are spiralling and are fast becoming disastrous,' said Dr Holland.
'If hospitals cannot discharge patients then the system comes to a halt.
'We need an overhaul of the discharge and social care process nationally so we can release pressure on front of house services in our hospitals – it is a national emergency.'
Earlier this week, the chief executive of NHS England, Simon Stevens told Health Policy Insight social care services are not keeping up with the rising demand for services.
'Last winter, the NHS buckled,' added Dr Holland.
'But the processes acute medicine had embedded in the healthcare system in the UK played a large part in getting us through.
'The concern we have now, however, is that hospitals where performance is already weak will find it very difficult to cope during the winter and that will lead to pockets of meltdown.'