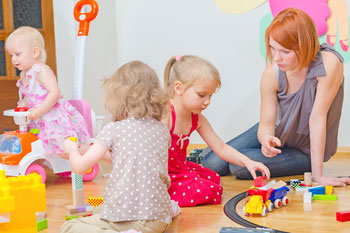 New research suggests the Government's policy of 30 hours of funded childcare for working parents has widened the gap between disadvantaged children and their peers.
All three- and four-year-olds in England are entitled to 15 hours of early education and childcare per week for 38 weeks of the year. Since 2017, children in families where both parents (or the lone parent) are working and earning above a certain income level per week are entitled to an additional 15 hours. There is a salary cap for eligibility, but this only comes into effect if either or both parents earn over £100,000, meaning two parents could have a combined income of £199,998 and still be eligible.
A new study from the social mobility trust, Sutton Trust, found that the current policy disproportionately benefits more advantaged families: 70% of those eligible for the full 30 hours are in the top half of earners, while just 13% of eligible families are in the bottom third of the income distribution.
The study also found that the poorest children are on average 11 months behind their peers when they start at primary school.
'The poorest children start school almost a year behind their peers. This is a truly shocking finding when you consider that the gap between low-income children and their better off peers widens over time,' said Sir Peter Lampl, founder and chair of the Sutton Trust and chair of the Education Endowment Foundation.
'We know how important high-quality early education is for young children, yet the poorest three- and four-year-olds are locked out of these opportunities, simply because their parents do not earn enough. This is a national scandal.'
The Sutton Trust also calculated that universal entitlement to 30 hours of early years education and childcare for three- and four-year olds would cost around £250m a year in a central scenario.
'We wouldn't accept the state providing longer school hours for well-off families, and we shouldn't accept it in the early years. If we want to make our school system fairer, it needs to begin with giving every child the foundation to succeed at school,' said Sir Peter.
'As today's research shows, a small increase in spending (9%) could widen access to early education. But expanding access must go hand in hand with improving quality, which is also key for making a lasting impact on children's life chances.'
Responding to the report, Dr Jo Casebourne, chief executive, Early Intervention Foundation said: 'We welcome the report's focus on supporting access to early education and care for children from the poorest families. 'Post-pandemic now more than ever early education and care needs to be of high-quality to ensure children are able to achieve their developmental potential and be school-ready. Alongside high quality provision we also need integrated maternity and early years services which are able to offer whole family support and refer into evidence-based services where necessary.'
Commenting on the report, Tiffnie Harris, primary specialist at the Association of School and College Leaders (ASCL), said: 'It is outrageous that we have an education funding mechanism in place that gives the young children of more privileged families a crucial advantage over their disadvantaged peers.
'The mismatch happens at the very start of their educational journey and means a large number of young pupils arrive at primary school already nearly a year behind children whose parents are comparatively well off. This is fundamentally wrong on every level and needs to be addressed urgently.
'Extending the 30 hours offer to all parents, whatever their circumstances, is therefore absolutely the right thing to do. It must crucially be accompanied by higher funding rates because early years settings do not receive enough money from the government for the 30 hours provision to balance their books. This inevitably results in better-off parents effectively propping up the system by paying extra fees.'
'Longer-term sustained funding would also allow early years settings to employ the graduate leaders and suitably qualified staff that will help them address the learning gaps that emerge early in life,' she added.