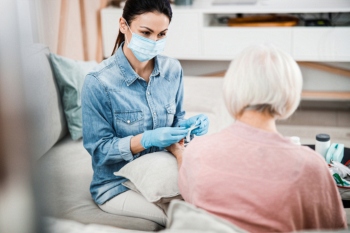 Adult social care services are seeing a 'phenomenal' rise in requests for help from vulnerable and older people, a survey has warned today.
A survey of social services directors in England found almost seven in ten are seeing a growing demand for help with mental health issues. Nearly six out of ten also say more people with care and support needs are seeking help to escape domestic violence or other abuse.
Nearly seven in ten directors (67%) said they were seeing more people seeking help due to the breakdown in carer arrangements.
The Association of Directors of Adult Social Services (ADASS) - who conducted the survey - warned that people will face a delay in receiving help unless the Government delivers its long-awaited social care reforms.
Stephen Chandler, president of ADASS, said: 'Some of the numbers we are seeing are phenomenal. The trends are unsustainable and show why the Government must publish its plans for social care as a matter of urgency.
'Our findings demonstrate very starkly that the crisis in social care is not just a crisis in the way we support older people. Half our spending is on help for adults of working age.'
The survey also highlighted the extent social care is working alongside the NHS with 75% of directors dealing with people being discharged from hospital, and nearly half (48%) providing help for those waiting for admission.
Mr Chandler added: 'Adult social care has stepped up during the pandemic and is providing care and support both for many more people who have been unable to get admission to hospital and for many more who have been discharged. Without social care, the NHS would collapse.'