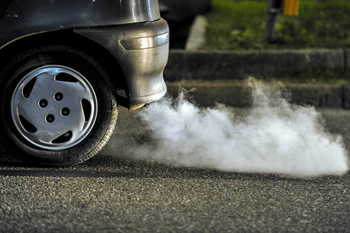 Old diesel buses and lorries could soon pay a charge for entering certain areas in Birmingham, Leeds, Nottingham, Derby and Southampton, following plans to create new Clean Air Zones in these cities.
The Government is providing funding to set up the new zones by 2020, which will give local authorities the power to charge the most polluting vehicles from entering 'air quality hotspots'.
The measures – which will not apply to private car owners – aim to encourage businesses to replace older polluting vehicles with modern, cleaner vehicles.
Environment secretary Elizabeth Truss said: 'Our Clean Air Zones are targeted on the largest vehicles, whilst not affecting car owners and minimising the impact on business
'We want to ensure people can continue to drive into city centres and by targeting action at the most polluting coaches, taxis, buses and lorries we will encourage the use of cleaner vehicles.'
In Birmingham, Leeds, Southampton, Nottingham and Derby, the Clean Air Zones will cover old diesel buses, coaches, taxis and lorries. Birmingham and Leeds will also implement other measures that may include park and ride schemes, signage, changes in road layouts and provision of infrastructure for alternative fuels.