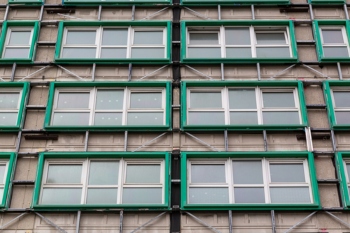 Developers have been warned they could face legal action or future restrictions on funding and procurement if they fail to remove unsafe cladding.
The Government has given developers until early March to come up with a plan for removing unsafe cladding on 11-18 metre buildings.
Secretary of state for levelling up, Michael Gove, has written to the industry giving them a deadline to agree a fully funded plan of action. He said the Government will impose a solution in law if this is not done.
He also said the Government could restrict access to government funding and future procurements on companies failing to fix the cladding crisis.
The letter asks companies to agree to make financial contributions to a dedicated fund to cover the full outstanding cost to remediate unsafe cladding, currently estimated to be £4bn.
Mr Gove said: 'It is neither fair nor decent that innocent leaseholders, many of whom have worked hard and made sacrifices to get a foot on the housing ladder, should be landed with bills they cannot afford to fix problems they did not cause.
'Government has accepted its share of responsibility and made significant financial provision through its ACM remediation programme and the Building Safety Fund. Some developers have already done the right thing and funded remedial works and I commend them for those actions.'