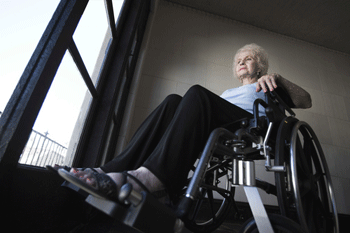 A 'devastating' lack of social care is causing mental and physical health problems for people with disabilities, a leading charity has warned.
Leonard Cheshire Disability says 40% of disabled adults in Britain who report not receiving enough social care have experienced a negative impact on their physical health, while the same proportion say it has caused mental difficulties.
In its 2016 report The state of social care in Great Britain, the charity says a lack of social care is putting an 'unbearable strain' on the NHS.
It says at least 400,000 fewer people in England are now receiving social care compared to 2009, while at the same time 1.4 million more working age adults are living with a disability compared to 2010.
The charity's chief executive Neil Heslop said: 'Social care in our country is completely overwhelmed with rising demand and dwindling resources.
'Our research shows hundreds of thousands of disabled people are going without vital support to live dignified lives, including those without help to get out of bed, to wash and eat properly. As a measure of our society, this is damning.'
For more on the failure to fund social care see The MJ (£).