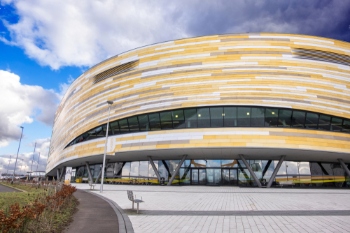 The leader of Derby City Council has welcomed the decision to consider making Derby Arena a temporary COVID-19 vaccination centre.
The NHS is reportedly preparing to open dozens of mass vaccination centres across England to vaccinate people against the coronavirus after initial results indicate that an effective vaccine may have been found.
The vaccine, which has been developed by Pfizer and BioNTech, has been tested on 43,500 people and is currently awaiting national approval.
Cllr Chris Poulter, leader of Derby City Council, said: 'Derby Arena is a world class venue in its own right, and we're delighted that it's being considered as a mass COVID-19 vaccination site.
'The potential roll-out of a COVID vaccine is a welcome step in the nationwide effort against the spread of COVID-19 – it's an honour for Derby to have the opportunity to play such a critical part in any vaccination programme.
'The Arena is a perfect venue; it has plenty of space, parking, and good transport networks to serve Derby, Derbyshire and beyond. We're still in discussions about practicalities but are very keen to be able to facilitate this.'
The UK is set to receive 10 million doses of the vaccine by the end of the year with a further 30 million on order.
'Vaccines are one of the most effective way to prevent infections like coronavirus, but we need to remember that it can't be rolled out immediately, it will take time, and in the meantime the importance of basic hygiene and safety measures remains imperative – we should all continue to wash our hands regularly, wear a face covering where we can, and keep a two metre distance from others,' said Dr Robyn Dewis, director of Public Health at Derby City Council.
'This news is obviously incredibly welcome, though vaccination centres are part of a wider effort to tackle the spread of COVID in our city and cannot work in isolation from other measures of protection. We cannot lose sight of the need to keep ourselves and others as safe as possible through our own actions, too.'
For more on the role of councils in the mass vaccination roll-out visit The MJ (£).
Image: Simon Annable / Shutterstock.com.