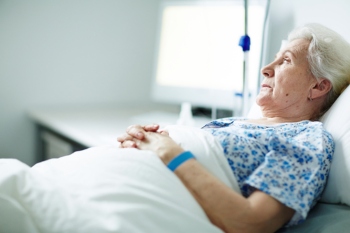 More than 1,000 people with dementia are being admitted into A&E every day, new data has revealed.
The Alzheimer's Society has found there were 379,000 emergency admissions in England for people with dementia in 2017/18, an increase of 35% over the past five years.
It also found that 40,000 people with dementia were left in hospital for longer than a month following an emergency admission.
The charity estimates the emergency admissions cost the NHS over £280m a year.
Jeremy Hughes, Alzheimer's Society chief executive, said: 'People with dementia are all too often being dumped in hospital and left there for long stays. Many are only admitted because there's no social care support to keep them safe at home. They are commonly spending more than twice as long in hospital as needed, confused and scared.This costs the NHS £millions for the want of properly funded social care.'
Cllr Ian Hudspeth, Chairman of the Local Government Association's Community Wellbeing Board, said: 'Every pound invested in council-run services such as social care helps to relieve pressure on other essential services like the NHS, keeping people out of hospital and improving their lives for the better.
'The forthcoming Budget is also an important opportunity to address this crucial issue of funding while looking ahead to finding a longer-term, cross-party solution to adult social care, which we at the LGA are happy to play our part in.'