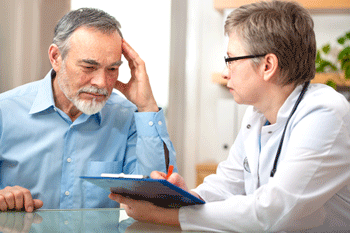 Healthcare professionals in GP surgeries will soon be able to offer advice on how patients can reduce their dementia risk, Whitehall says.
The Government has announced they will be adding a 'dementia element' to the NHS Health Check programme in order to help tackle the long-term illness.
The NHS Health Check is a health check-up for adults in England aged 40-74 which focuses primarily on reducing cardiovascular disease (CVD) risk.
The Government says that while over 850,000 people are living with dementia in the UK, there is little public understanding of how to reduce the risk.
The advice for preventing CVD - maintaining a social life, keeping mentally and physically active and stopping smoking - is much the same as for dementia.
'The NHS Health Check is one of the largest public health prevention programmes in the world with almost 7 million in the last 5 years having benefited from a check, and it's reaching the people where it's most needed with the greatest numbers in the most disadvantaged areas,' said Duncan Selbie, chief executive of Public Health England.
'This success is down to local councils delivering and they should be proud of this achievement. It's free and fast, and effective - just 15 minutes that could add years to your life.'
The minister for public health Steve Brine said: 'Early detection and prevention are vital to the health of our nation and our programmes in this area are among the most ambitious in the world.
'Our aim is to keep everyone as healthy as possible, for as long as possible, which is why we are introducing advice on dementia prevention as part of our free health checks.'
Local government leaders welcomed the move but warned that funding cuts to councils' public health budgets would have to be reversed.
'Councils have done a tremendous job in inviting more than 14 million eligible people to have a health check over the last five years, of which 6.8 million have taken up the free offer,' said Cllr Izzi Seccombe, chairman of the Local Government Association's (LGA) Community Wellbeing Board.
'However, if we are to continue to tackle or delay avoidable ill health, it is vital that eligible people get checked in order to increase health check uptake rates.
'To help this goal, Government needs to reverse the £600m reduction in councils' public health budgets between 2015 and 2020.'