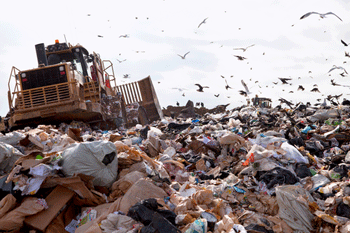 The amount of rubbish rejected for recycling by councils in England has increased by 84% over the past four years, a new investigation has revealed.
A freedom of information by the BBC found councils were unable to recycle 338,000 tonnes of household waste in 2014-15, compared to 184,000 tons in 2011-12.
The figures show the cost of re-sorting contaminated waste was the main reason for rubbish being rejected.
A spokesperson for the Local Government Association said: 'The problem is there is widespread confusion over what can and cannot be recycled. If just one non-recyclable item is included with recyclable items, the whole bin is effectively contaminated. Councils then have to re-sort it, which is time consuming and very expensive.
'There is no one-size-fits-all solution to waste collection. What works in an inner city suburb won't necessarily work in the countryside. The types which would suit a large detached house in the country would be completely unsuitable for a high-rise block of flats in inner-city London and vice versa.'