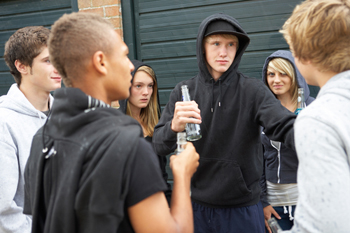 Government funding cuts have served to undermine years of work by local authorities in tackling youth crime, council chiefs warn.
In 2010/11 Whitehall funding for youth offending teams (YOTs) stood at £145m. By 2017/18 it had been slashed to £72m.
These cuts have been made despite evidence YOTs have been effective at preventing young people from getting involved in crime.
According to the Local Government Association (LGA), over the last decade there has been an 85% drop in First Time Entrants to the youth justice system and 74% fewer young people in the average custodial population.
The number of youth cautions handed out also dropped by more than 90% in the same period.
However, the latest Ministry of Justice figures reveal an 11% rise in offences involving knives or offensive weapons by young people, compared with a 10% reduction for adults since March 2012.
The LGA warned this increase is the result of cuts to YOTs and to the Government's youth justice grant. This is made worse by funding gaps in other areas, such as children's services, which are forcing councils to divert money away from preventative measures like YOTs.
The youth justice grant allocations have still not been announced for 2018/19, the LGA adds, despite the fact that councils have to set their budgets within the next two weeks.
'Youth offending teams have an outstanding track record in working with children and young people to stop them coming into the youth justice system, but they've been victims of their own success,' said Cllr Richard Watts, chair of the LGA's Children and Young People Board.
'As the numbers of young offenders has fallen, so has the grant from central Government to continue the preventative work that caused the fall in the first place.
'Increases in knife crime amongst young people highlights the challenge still facing youth offending teams, and we're worried that cutting back on funding risks undermining the progress that's been made over the last decade.
'Councils must be given the resources they need to work with young people and prevent their involvement in crime in the first place, rather than simply picking up the pieces after offences have been committed.'