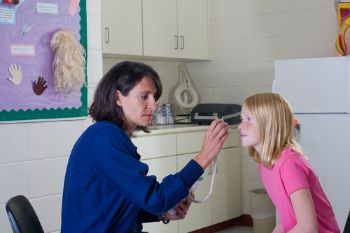 A lack of investment in school nursing is leading to a health crisis among children and young people, nurses' leaders have warned.
The Royal College of Nursing (RCN) says numbers of school nurses have fallen since 2010 despite steadily growing numbers of pupils.
It says there are currently more than 8.4 million pupils attending 24,317 schools while the numbers of nurses has fallen to just 3,053 employed by the NHS, and warns that experts predict a 24% vacancy rate.
The annual RCN school nurses conferences heard that while health problems facing children continue to accelerate, £2m cuts to public health budgets in England mean school nurses are at further risk.
The college says authorities in London, Staffordshire, Middlesbrough and Derbyshire are already considering cuts to school nurse funding to plug gaps in other areas of public health.
But it says school nurses have a critical role in tackling such problems as obesity, mental and emotional health and disability.
Fiona Smith of the RCN said: 'Unlike any other health professional, school nurses work with children and education staff on a daily basis.
'However, investment is fundamental if we are to begin solving this crisis in children's health and build a healthy and prosperous future population.'