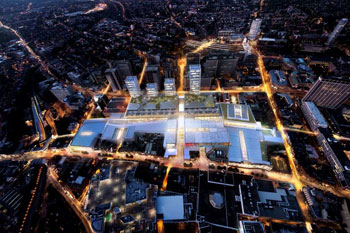 Plans to transform Croydon's town centre promise to create up to 7,000 new jobs for local people and 1,000 new homes.
The £1.4bn redevelopment proposal given the green light by the council's planning committee, is set to deliver 300 shops, restaurants, cafés and leisure facilities including a multi-screen cinema and bowling alley.
The new town centre development, involving a partnership with retail companies Westfield and Hammerson, will cement Croydon's reputation as 'one of the best destinations in the capital to live, work and play.'
The plans were first agreed three years ago, but a revised version now includes more housing, a third level of retail and leisure and a new Marks and Spencer store.
The council says the new retail and leisure facility comes at a time of significant redevelopment in Croydon town centre which includes the £30m refurbishment of Fairfield Halls.
Council leader Tony Newman said: 'The new homes and the thousands of jobs this development will bring shows investors are rightly confident about Croydon as a place to live, work and spend free time.
'I am delighted contractors will be on site in 2019 to kick-start the exciting transformation of the heart of our town.'