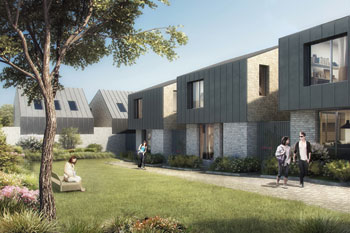 From adult social care to waste collection, council-owned companies have been launched all over the country over the past few years.
In Croydon, the council set up a development company - Brick by Brick - with the aim of delivering 1,000 new homes on smaller sites across the borough by 2019.
So what makes Brick by Brick different from the other council-owned companies set up in recent times? I sat down with Alison Butler, the council's deputy leader and cabinet member for homes, regeneration and planning, and Colm Lacey, managing director and CEO of Brick by Brick to find out more.
One thing that becomes abundantly clear is the fact it has been set up with a very clear remit in mind. There is no vague talk about saving money and becoming more commercially minded; these factors do come into play obviously but there is a very clear vision about why and what this new venture is all about.
'One of my observations of council-owned companies is that many local authorities feel they should set one up, but are not really sure why,' says Mr Lacey. 'That then becomes a difficult thing to implement as you need to have a clear vision on what you want to deliver with clear support.
'A council-owned company should be set up for a specific reason and then it should be allowed to do that. Some authorities set one up and then don't allow it to develop.'
He adds that a 'clear vision, with a clear aim and a clear goal' is essential. The clear vision in this case is the need to deliver affordable housing in both the social and privately rented sector, one of the greatest challenges facing the borough.
Ms Butler explains: 'Like many other councils, we face restrictions around council housing such as the Housing Revenue Allowance so we had to look at new innovative ways to deliver housing.
'Setting up our own development company will enable us to bring forward 50% of affordable housing on sites. Even within the new private housing for sale, we will have a local sales plan in place to ensure people from Croydon benefit from development first.'
Mr Lacey says that in the last five years, a typical development in Croydon has delivered around 16% affordable housing. Brick by Brick is on track to deliver 50% affordable housing on the first batch of sites, representing a significant uplift in provision.
However, he also says that the company is about investing money back into frontline services.
He explains: 'While the overall aim is to provide 50% affordable housing, it is an independent company that creates profit that goes wholly back to the council.
'Traditionally we would have sold land to a developer and they would have benefited from that profit, but with a sealed commercial model all the value of development stays in the borough.'
Brick by Brick is aiming for around 15% profit levels, although this will be less on affordable housing schemes.
The company has been granted planning permission on 30 sites in the last five months, which will deliver around 600 homes. Another 15 sites are currently working their way through the planning system, with most developments taken place on left-over land on housing estates, disused surface level car parks and highways land.
The logistical challenge of getting so many applications through in one go cannot be underestimated, so how did the council's planning department deal with such an influx of applications? And - maybe even more importantly - how fairly can the council make decisions on their own schemes?
As Ms Butler explains: 'From the council's perspective, the planning department are actually more worried about dotting the i's and crossing t's than with a normal development so are much more thorough.'
Mr Lacey adds: 'Bringing your own sites through the planning process actually leads to more scrutiny.'
Another challenge with tackling development on this scale is the skills required within the council to actually deliver projects. Mr Lacey said the company has managed to navigate this problem by identifying or recruiting more junior staff that can be trained up.
'We've taken on a lot of relatively junior staff and worked with them to help them gain the experience they need to work at this level. It's worked really well for us,' he says.
'Equally, we're starting to find that while a couple of years ago we lost a lot of people to the private sector, a lot of people are now coming back for a variety of reasons such as the quality of life.'
While Brick by Brick may be able to help other councils in the future set up their own companies, both Mr Lacey and Ms Butler have their sights firmly set on the original goal of delivering affordable housing in the borough.
'In the future we would be keen to look at how we could help other councils do something similar to us, but at the moment we have a big programme to develop,' says Mr Lacey.
And it's that drive that could be the most valuable lesson other councils could learn from Croydon.