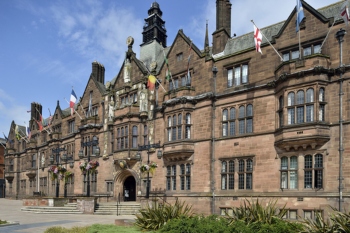 Coventry City Council today announced that it is set to bring in a private contractor to help collect waste as strike action by bin lorry drivers continues.
The union Unite, which represents the drivers, recently confirmed that the ongoing strike action by bin lorry drivers in Coventry would continue through February and March.
The industrial action, which involves 70 refuse collection drivers, is over pay and Christmas working arrangements.
The council has confirmed that the private contractor Tom White Waste is set to work throughout February and March to provide fortnightly household waste collections of waste from private households.
The company is currently advertising to recruit HGV Class II dustcart drivers at £18 to £20 per hour. The striking refuse bin collection drivers are paid between £11.49 to £14.37 an hour and are asking for between £14 and £17 an hour.
'Here we have a so-called Labour council prepared to pay agency drivers to drive its bin lorries on more money than the union is asking for in its regrading claim,' said Unite general secretary Sharon Graham.
'This is a ludicrous waste of taxpayers' money. The council could get the strike resolved by paying for our regrading claim now and so get the bins emptied.'
A statement from the council said: 'Ongoing negotiations have seen offers made on working between Christmas and New Year and an increase in driver pay towards the bottom of their pay scale, backdated from April last year, rejected by the union.
'The council is already one of the highest paying local authorities in the West Midlands for Class II HGV drivers, who drive the city's bin lorries. It means the council is limited on what else it can offer, as it must be rightly mindful of the duty it has to all of its 4,500-strong workforce and the possibility of future equal pay claims from other trade unions.'
Unite's 70,000 local government members, employed across 321 councils in England, Wales and Northern Ireland, are voting on whether to take strike action over the 1.75% offer made by the Local Government Association (with 2.75% for those on the bottom pay point) for 2021/22.
Ms Graham commented: 'Our members have made a huge contribution to keep public services running during the continuing pandemic. They have held our services together at a time of national emergency.
'With the energy price and tax hikes on the way, Unite is determined to ensure the local government employers think again and offer our members a decent pay rise that reflects the cost of living crisis that is set to decimate household budgets in 2022.'