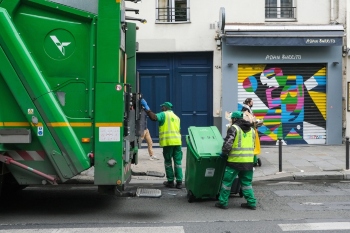 The industrial action, which involves 70 refuse collection drivers who are members of the union Unite, began in December and is over pay and Christmas working arrangements.
Coventry City Council, who has brought in a private contractor to help collect waste during the strikes, estimates that the dispute will result in a net pressure of £1.8m if it is not resolved before the end of March.
A spokesperson for the council says this figure is made up of the cost of the temporary waste collection sites (£1.6m), the revised arrangements for a fortnightly household waste collection (£0.4m) and a net loss of commercial waste income (£0.9m).
'The strike by bin lorry drivers has affected everyone in the city and we are doing everything we can to mitigate the inevitable disruption this action – which is out of our control – has caused,' the spokesperson said.
'We are determined to lawfully resolve it as quickly as possible and we'd like to thank people for their patience and their community spirit in helping friends and neighbours.'
Unite regional officer Simon O'Keeffe said the dispute was 'entirely of the council's own making'.
'All our members are seeking is a fair day's pay for a fair day's work. It would cost just £250,000 to settle the dispute,' he said.
'Coventry's council taxpayers need to be asking the council and the councillors why rather than paying its refuse collection drivers a fair wage they are instead pouring money into a rogue collection service where agency drivers are receiving up to £20 an hour which is over £5 an hour more than the very maximum that the council's drivers can earn.
'The council should stop wasting money and return to the negotiating table and agree a deal which meets the drivers' aspirations and resolve the dispute.'
The private contractor hired by the council was advertising to recruit HGV Class II dustcart drivers at £18 to £20 per hour last month. The striking refuse bin collection drivers are paid between £11.49 to £14.37 an hour and are asking for between £14 and £17 an hour.