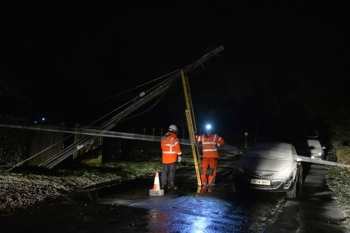 County Durham has declared a 'major incident' after residents have been left without power for six days following Storm Arwen.
The army has now been drafting in to help the council support the thousands of residents without power. More than 100 military personnel will conduct welfare checks and offer support to people.
At the weekend, Storm Arwen brought down power lines across the region affecting up to 13,000 properties.
John Hewitt, chair of the Darlington Local Resilience Forum's strategic co-ordinating group, said: 'We know that communities are rallying round too, with many groups opening up venues to provide hot food and drinks and individuals checking in on friends and neighbours.
'However, without a clear idea of when power will be fully restored, we have had to look at drafting in additional support to help us ensure that we can continue to carry out these vital welfare checks and provide any help that is required.
'We are very grateful to the Ministry of Defence that they have approved our request for support and that we will this morning have troops on the ground helping our communities.'
Photo: M Barratt / Shutterstock.com