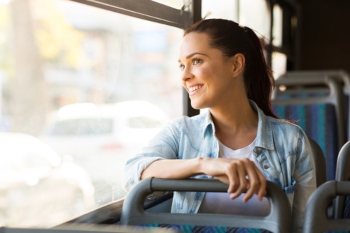 The Government has pledged nearly £400m funding to help keep bus services running during the coronavirus pandemic.
The funding package, agreed with bus operators, will see £167m paid over the next three months to keep key bus routes running. As a condition of the money, bus operators will need to maintain services at a level to meet reducing demand, while allowing space for passengers to practice self distancing.
This announcement is in addition to the £200m existing funding under the Bus Services Operators Grant, which will be paid as normal even if services aren't running.
Local authorities will also have access to £30m to maintain existing services that was originally earmarked for starting new services.
Chancellor, Rishi Sunak, said: 'This funding will provide a lifeline for those on the frontline as well as those who cannot work from home.
'Councils have also been encouraged to maintain their existing subsidies for concessionary fares to ensure that older and disabled people can still travel when they need to, for example to reach the shops, hospitals and doctors' surgeries.'
Cllr David Renard, the Local Government Association's transport spokesman, said: 'Bus operators must work with local authorities to ensure that this public subsidy is targeted at the people and places that depend on it the most.
'Councils now want to also work with government to provide financial support to those places which depend on other publicly-run mass transit systems, such as ferries, trams, light railway networks.'
Transport union TSSA said the Government should now go further and bring buses permanently into public ownership.
Manuel Cortes, TSSA general secretary, said: 'A publicly owned, truly integrated public transport can transform the way we travel and help tackle climate change for a cleaner future for all of us.'