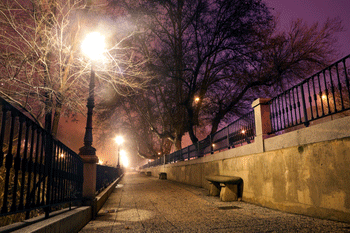 In areas where street lights have been switched off or dimmed, 56% of women and 39% of men now feel less safe, according to a new survey.
A survey, conducted by the Neighbourhood & Home Watch Network (England & Wales) (NHWN) and Suzy Lamplugh Trust, found that just over a fifth (22%) of participants live in areas where street lights have been switched off or dimmed. Of these, 40% consider going out less as a result, with 65% avoiding unlit areas.
Jim Maddan, chair of NHWN, said: 'Most people do appreciate the need for cost savings by local authorities but it is important that residents are consulted to find out how they feel about crime, safety and lighting levels in their neighbourhood.
'Lighting is not a catch-all solution to crime and anti-social behaviour, but it needs to be suitable for the area in question, and local people's views should be listened to and taken into consideration. Any change that makes people feel less safe when out and about in their communities is a step backwards.'
Of the 15,786 people surveyed, 93% said they feel 'very' or 'fairly' safe in well-lit areas, but only 22% said they do in unlit or poorly lit areas. A higher number of younger respondents also reported their safety was negatively affected by the quality of street lighting.
Rachel Griffin from Suzy Lamplugh Trust said: 'The survey indicates that a significant proportion of residents are adversely affected by a lack of or poor street lighting in their local area and this should be taken into consideration by councils when making decisions about lighting.
'Councils also need to be aware that some demographics are more affected by changes to lighting than others, for example young people and women expressed strong concerns in our survey. The impact on these residents should be carefully considered by councils to avoid adversely affecting the quality of life of any group of people. We hope that local councils take this into consideration when planning any changes to street lighting.'
Last year, a coroner concluded switched off street lights in Warwickshire contributed to the death of a student.