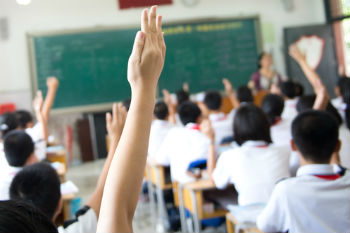 The cost of creating 900,000 extra school places could push schools to a 'tipping point', town hall chiefs are warning.
The Local Government Association (LGA) fears the £12bn cost of creating 900,000 extra school places over the next ten years will mean there will soon be no extra money or space to expand schools.
The LGA is calling on the Government to give councils the power to open new schools free of 'bureaucratic burdens' and to fully-fund all new school places.
Cllr David Simmonds, chairman of the LGA's Children and Young People Board, said: 'Councils face a challenge to create places on time and in the right areas, in a climate where they are also short of money to do so. The scale of this crisis is too much for council taxpayers to pay for alone.
'Additionally, much of the decision making about new school places rests in the hands of the Government, whose funding for school places came late. As a consequence, councils are carrying a billion pounds worth of costs which puts pressure on other school services.'
The LGA said data from the Department for Education predicts there could be 900,000 extra pupils in English schools over the next decade. New modelling suggests the cost of creating these places is £12bn.