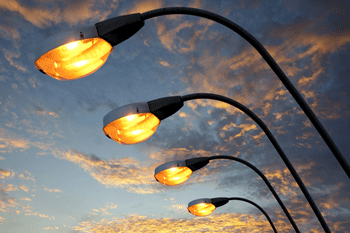 Councils could save hundreds of thousands of pounds a year by dimming their streetlights, a report published today suggests.
The research from Campaign to Protect Rural England (CPRE) found almost half of councils surveyed were running dimming schemes in their area – typically between midnight and 5am. These were found to be preferable over switch-off schemes by communities, with 68% of respondents saying local communities had been supportive.
Streetlighting in England costs councils around £616m per year and can account for up to 30% of their carbon emissions. The report, Shedding Light, suggest that by controlling streetlights, councils are able to save money on energy bills, while also reducing light pollution and cutting carbon.
'Darkness at night is part of what makes the countryside unique, but fewer than two thirds of councils in England are seeking to minimise the impact of bad lighting despite changes to planning laws which encourage them to do so,' states CPRE.
CPRE is calling for councils to do more to control lighting in their areas. 'We urge councils to do more to control lighting in their areas, and ensure that the right lighting is used only where and when it is needed,' said Emma Marrington, CPRE dark skies campaigner.
'We often hear concerns that changing streetlighting can impact on public safety but our research revealed no evidence to support this.'
The report makes eight recommendations, including: allocating lighting zones to help determine where streetlights should and should not go; and preventing inappropriate and badly designed development that masks views of the night sky.
'Genuine dark starry nights are becoming harder and harder to find, which is why councils should take action to control it now,' Marrington concluded.