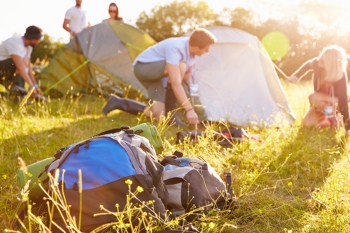 The Government is urging local authorities to support the extension of 'pop-up' campsites across England this summer to help meet the surge in demand for staycations.
New measures were introduced last year to allow businesses to set-up temporary campsites without the need to apply for planning permission.
Councils are being asked to take a flexible approach to the enforcement of regulations as long as there is no negative impact on public health or the local environment.
Communities secretary, Robert Jenrick, said: 'Many of us are planning a staycation this year, and I'm asking councils to support the extension of pop-up campsites for tourists and not let red tape get in the way of a great British summer.
'The measures will help holidaymakers make the most out of the beautiful seaside towns and countryside this country has to offer. Greater campsite capacity over the summer months will boost our tourism and hospitality industries and support the communities that rely upon visitors in their area.'
The measure allows for the temporary use of land as a commercial campsite for up to 56 days without the need to apply for planning permission.