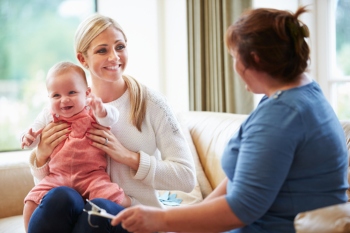 Local authorities are being urged to publish a single publication setting out what support is available for parents in their local area.
The recommendation is part of the Government's The Early Years Review into reducing inequalities in the first 1,001 days of life.
The review - The Best Start for Life: A Vision for the 1,001 Critical Days - sets out actions to improve health outcomes for babies and children in England. This includes bringing forward plans to digitise Personal Child Health Records by April 2023.
Local authorities will also be encouraged to publish a Start for Life offer for parents and carers in their area to show what services are available.
Andrea Leadsom, chairman of the Review, said: 'When we started work on the Review, I was clear that the needs of the baby must be at the heart of everything we do. The coronavirus pandemic has put even more pressure on already struggling families and, just as we need to level up economic opportunity across the country, we need to level up the support and care for the very youngest.
'The six Action Areas will have a transformational impact on our society, and I am looking forward to the implementation phase of the Review where we will continue to work closely with families and the early years sector. I am confident that delivering this vision will help millions of families to give their baby the very best start for life.'