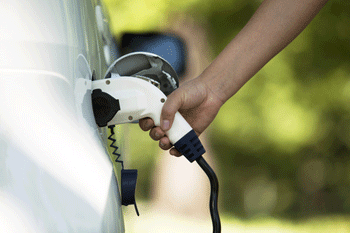 The Government is encouraging councils to bid for funding from a multi-million pound package designed to boost the uptake of ultra-low emission taxis and cars.
The transport minister John Hayes today announced £35m would be made available so that more electric vehicle charge points could be installed on streets and at workplaces.
'No matter what mode of transport you need - a scooter to get to work, a car or a van to run your business - we are here to help you do it with zero emissions,' Mr Hayes said.
'The number of ultra-low emission vehicles on our roads are at record levels and new registrations have risen by 250% in just over two years.
'We are committing £35m to help install new charge points and offer new grants as we aim for nearly all cars and vans on our roads to be zero emission by 2050.'
Of this funding, £20m would be to help councils roll out charge points for ultra-low emission taxis, and £10m would go towards installing points outside of workplaces and homes where there is no off-street parking.
The remaining funds are for a scheme to encourage the use of zero emission motorcycles and scooters (£3.75m), and for public and private sector organisations to deploy hydrogen fuel cell vehicles (£2m).
The funding is being delivered as part of the Government's commitment to invest £600m in ultra-low emission vehicles by 2020.
It also follows Defra's launch of a consultation on introducing clean air zones in Birmingham, Leeds, Nottingham, Derby, and Southampton by 2020.