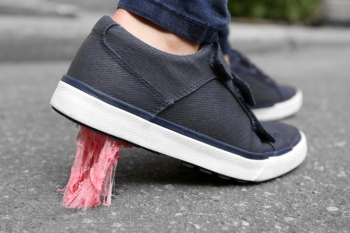 Councils are being urged to apply for funding to clean chewing gum off of pavements and help prevent people from dropping gum in the first place.
Grants of up to £20,000 are being made available to individual councils from the Chewing Gum Task Force Grant Scheme.
Under the scheme, which is administered by Keep Britain Tidy, chewing gum producers will invest up to £10m over five years to help reduce chewing gum pollution.
The funding will enable councils to fund street cleansing and buy cleaning equipment, as well as access a bespoke gum litter prevention package.
Councils will also be able to work together to apply for grants of up to £70,000.
Allison Ogden-Newton, chief executive of Keep Britain Tidy, said: 'This is an exciting new opportunity for councils to tackle the ongoing problem of gum pollution.
'The grants will allow councils to clean up historic gum litter staining in our towns and cities, as well as taking action to prevent people littering in the first place.'