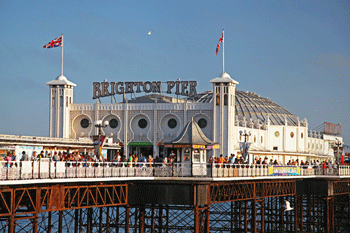 Council leaders and tourism bodies have warned that local residents could be put at risk if people flock to tourist hotspots now the lockdown restrictions have been eased.
Councils across the UK have voiced concerns after Boris Johnson said people can travel for unlimited exercise from tomorrow.
Cllr Nancy Platts, leader of Brighton and Hove City Council, has asked people who do not live locally not to visit its seafront.
'We need to make sure residents can continue to use all the city's open spaces safely, and we are still asking people who don't live here not to travel to Brighton & Hove,' she said.
'We know our seafront is appealing but it is not big enough to provide space for an influx of visitors.'
Visit Cumbria has also told people not to visit the area, warning the Lake District and Cumbria are 'closed for business' at the moment.
Whitby Town Council also published a statement, telling people that 'Stay Alert means Stay Away'for now.
It read: 'The safety of residents remains Whitby Town Council's priority. For now, tourism businesses in Whitby remain closed and we urge everyone to continue to stay at home and not compromise the safety of others.'