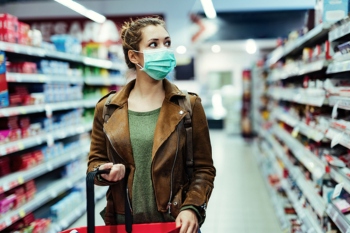 Targeted testing and contact tracing is taking place after two cases of the Omicron COVID-19 variant were identified in the UK for the first time.
The first two cases - which are linked and connected to travel to Southern Africa - were found in Chelmsford and Nottingham.
Working with the local authorities, the UK Health Security Agency (UKHSA) is carrying out targeted testing at locations where the positive cases were likely to have been infectious.
Essex County Council said contact tracing has found there is a link to Larchwood Primary School so specialist testing and remote learning for one class was being provided. A branch of KFC in Brentwood High Street and Trinity Church in Pilgrim's Hatch will also be the focus of targeted testing activity.
Dr Mike Gogarty, Essex County Council's director of public health, said: 'Thanks to the excellent work of our contact tracers we have been able to identify two settings which are the focus of our attention for testing.
'The aim is to understand what, if any, spread of the new variant within the local community may have occurred and limit the opportunity for any further spread. Robust contact tracing has taken place following identification of the single case.'
Six cases of the variant have also been identified in Scotland.
The Government also announced other 'temporary and precautionary measures' to prevent the spread of the new Omicron variant, with face coverings being compulsory in shops and on public transport from tomorrow.
The Prime Minister said: 'As always, and I must stress this, as always with a new variant, there are many things that we just cannot know at this early stage. But our scientists are learning more hour by hour, and it does appear that Omicron spreads very rapidly, and can be spread between people who are double vaccinated.
'There is also a very extensive mutation which means it diverges quite significantly from previous configurations of the virus, and as result, it might - at least in part - reduce the protection of our vaccines over time.
'So we need to take targeted and proportionate measures now as a precaution while we find out more.'