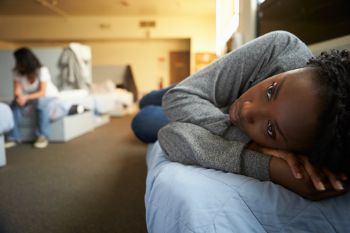 A year after the Government took radical steps to reduce homelessness councils are warning they lack the resources to cope with a rising tide of people needing somewhere to live.
A survey by the Local Government Association to mark the first anniversary of the Homelessness Reduction Act - which gave councils new powers to tackle the crisis - found most councils say they are struggling to cope.
More people are being placed in temporary and emergency accommodation because there is not enough affordable housing for them.
The LGA says pressure on councils will increase as homelessness continues to rise.
In the survey of more than 150 councils, nine out of ten said they were seriously worried about the limited access to housing they could provide.
It revealed 8 in 10 councils have seen an increase in people presenting as homeless since the Act came into force.
Many local authorities said excessive paperwork required by the Act was costing them too much in administration and hampering their ability to meet the needs of people at risk of homelessness.
The LGA says the Government must tackle wider factors that are increasing homelessness including allowing councils to keep all the money they gain through the Right to Buy scheme so that they can build affordable housing.
It also says welfare reforms must be enacted to protect families at risk and prevent homelessness from happening in the first place.
LGA housing spokesman Cllr Martin Tett said: 'Many councils have updated their homelessness prevention strategies since the Act was introduced last year.
'But a lack of affordable housing has left many struggling to cope with rising number of people coming to them for help and having to place more families and households into temporary and emergency accommodation as a result.
'This is bad for families and communities, expensive for councils and not the aim of the Act.'