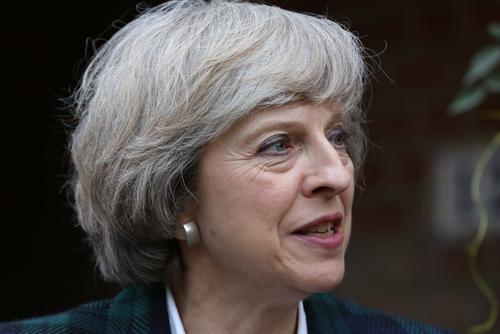 Local government cannot 'expect any mercy' from Theresa May as she becomes Prime Minister, union warns.
Branding the new PM an 'austerity enthusiast', the public sector union Unite cautions local government workers not to expect anything different from Mrs May.
'There is nothing in Theresa May's record that suggests that local government can expect any mercy as she becomes prime minister,' they said.
'It will be more of the same, lots more, coming down the tracks in the years up to 2020.'
The country's largest union, which has 70,000 members in the local government sector, pledged to work with the Labour group of the Local Government Association (LGA) to fight cuts to local services.
Unite assistant general secretary Gail Cartmail said: 'One of David Cameron's baleful legacies will be the 676,000 jobs lost in local government during his premiership – libraries closed, education deprived of resources, social care cut, youth centres shut, and services, such as parks, outsourced.
'What a legacy to leave his fellow 65 million citizens.'
Striking a more conciliatory tone, Cllr Paul Carter, chairman of the County Councils Network (CCN), congratulated the new Prime Minister and said the CCN looks forward to working with her in what could be a 'significant period of change'.
'We will work with Government to safeguard and grow county economies, which account for 41% of England's GVA. County services and partnerships must be harnessed and empowered to promote enterprise and job creation,' he said.
Cllr Carter also reminded the new PM of the importance of the devolution agenda 'in bringing local government closer to their communities'.
'We welcome the Prime Minister saying she wishes to lead a Government for the whole of the UK,' he added.
'The voice of county authorities, who represent 25 million people, must be recognised as a significant part of this country.'
Lord Porter, chairman of the Local Government Association (LGA) also congratulated Theresa May on her appointment and welcomed the fact that she has experience in the local government sector.
'For those of us involved in local government, it is reassuring in these uncertain times that someone who has previously served as a councillor and as a Shadow Secretary of State for Local Government has assumed the highest office in the land,' he said.
Lord Porter also highlighted the past cooperation between the LGA and the former home secretary.
'As home secretary for the past six years, Theresa has worked closely with the LGA on a number of important issues, including high profile engagement with us over the past 12 months in relation to the resettlement of Syrian refugees.'
President Mark Rogers of the Society of Local Authority Chief Executives and Senior Managers (Solace) has also written to the new PM outlining a number of key areas the sector and Whitehall should work together on.
He called for an acceleration of the devolution agenda, the involvement of local government in Brexit negotiations, and the creation of a new system of support for children and families.
Mr Rogers also underlined the importance of further integration of health and social care and a better understanding of the practical implementation of the Housing and Planning Act.
'Both your Government and the local government sector share challenging and ambitious objectives,' he said.
'The recent referendum result means it is important that all parts of Government collaborate in order to build sustainable and cohesive communities that reflect the aspirations of local people.'
'We put local government forward as an important part of this solution, not a barrier to change,' he added.