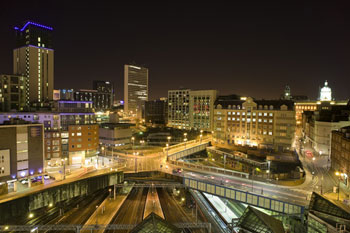 Birmingham and four Black Country council leaders have announced plans to unite as a West Midlands combined authority.
Dudley, Sandwell, Wolverhampton, Walsall and Birmingham councils have agreed in principle to join forces, also inviting neighbouring local authorities including Solihull and Coventry to join negotiations surrounding the coalition of town halls.
Leaders claim the move would see the West Midlands becoming the 'lynchpin' for national economic recovery, as the region drives growth, creates jobs and improves local skills.
If approved next year, the combined authority would serve over 3.4m people. Yet local leaders today pledged not to 'dilute' the separate identities of each area if the plan goes ahead.
Cllr David Sparks, leader of Dudley Council and chair of the Local Government Association, said: 'By working together in this way, the West Midlands can become a lynchpin for national economic recovery. We need a combined authority in the West Midlands to compete with other areas which have already gone down this route.'
The Government and Labour have pledged to commit significant funding and powers to cities and regions that unite under the combined authority model. Greater influence over local finances and transport alongside significant central funding would most likely be handed to the West Midlands if such a move went ahead, as was this week seen in Greater Manchester.
Cllr Sir Albert Bore, leader of Birmingham City Council, said: 'I am pleased that we have come together to reach this agreement which will ensure the region makes a full contribution both to the UK's economic recovery and the re-balancing of the national economy. A combined authority stretching from Wolverhampton to Coventry and beyond, and from East Staffordshire to Redditch would form the core of a Midlands powerhouse to compete with city regions around the world.'
Cllr Roger Lawrence, leader of Wolverhampton City Council, said the group was 'doing everything we can' to encourage Coventry and Solihull to 'bring their considerable economic strength' to the combined authority.
Solihull Council leader, Cllr Bob Sleigh, indicated his town hall was 'open to discussions around better regional cooperation' but emphasised new arrangements 'must benefit both the people I serve in Solihull as well as the regional partners'.
West Midlands leaders will now work to finalise details including the official name for the combined authority. This issue has historically posed problems for councils joining in partnership, most notably at the Merseyside 'super council' given statutory name: The Halton, Knowsley, Liverpool, St Helens, Sefton and Wirral Combined Authority.