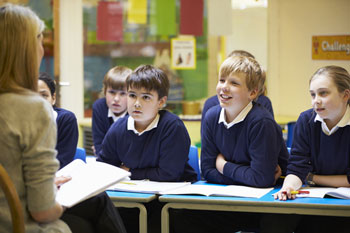 Local authorities should be recognised for their leading role in creating school places and should be given more powers to continue this task, council chiefs say.
New statistics on school capacity show that the Government is on track to delivering an extra one million school places nationwide in the decade leading up to 2020.
The figures, which cover the academic year 2017-18, show that an additional 96,000 new school places have been created across England in the last year.
This takes the total number of new places created since 2010 to 921,000 and reverses a reduction of 100,000 between 2004 and 2010.
'Children only get one chance at an education and they deserve the best, wherever they live and whatever their background,' said secretary of state for education Damian Hinds.
'That's why this Government is undertaking the biggest expansion in school places in two generations – and the statistics out today show we are well on track to create one million places this decade.'
Responding to the new figures, Cllr Anntoinette Bramble, chair of the Local Government Association's Children and Young People Board, said that councils should be recognised for their role in creating new school places.
According to the LGA's records, councils have secured the creation of an extra 825,000 school places since 2010, made up of 557,000 primary and 248,000 secondary places.
'Councils have an excellent history of ensuring a sufficient number of good school places are available,' said Cllr Bramble.
'The Government should recognise and credit the unique role of councils in school place creation and improvement and should give councils the necessary powers to ensure they continue to play a leading role in providing school places for children,' she added.