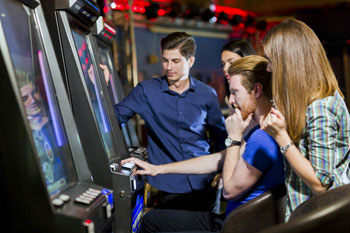 Local authority leaders have demanded extra powers after new research showed a link between clusters of high street betting shops and problem gambling.
They say the research proves for the first time that people living in areas with a higher number of bookmakers are more likely to be problem or at-risk gamblers compared with those in areas with fewer betting shops.
The Local Government Association (LGA) says councils should be allowed to reject applications for new betting shops where there are already clusters, similar to powers being introduced in the Police and Crime Bill for alcohol licensing.
The LGA also wants the current £100 maximum stake on fixed odd betting terminals (FOBTs) -- known as the 'crack cocaine' of gambling -- reduced.
The LGA's licensing spokesman Cllr Tony Page said: 'Councils up and down the country are frustrated by the lack of powers they have to curb the number of betting shops on our high streets.
'The LGA and councils have long argued that betting shop clustering has a detrimental impact on local high streets, but this ground-breaking research now clearly shows the risks it has for individuals as well.'